AVTA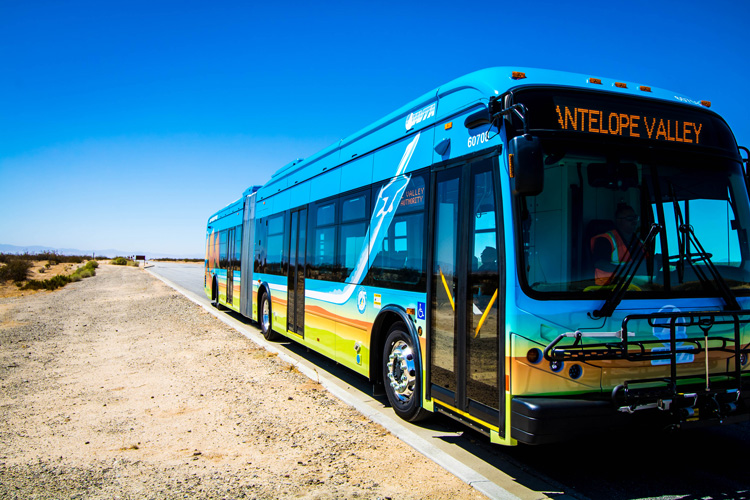 The Antelope Valley Transit Authority began service in the Antelope Valley on July 1, 1992. AVTA currently serves a population of over 450,000 residents in the cities of Lancaster and Palmdale, as well as the unincorporated portions of northern Los Angeles County. Its total service area covers 1,200 square miles and is bounded by the Kern County line to the north, the San Bernardino County line to the east, the Angeles National Forest to the south, and Interstate 5 to the West. The fixed route service area consists of approximately 100 square miles.
AVTA operates a network of 13 local transit routes, six commuter routes, and three supplemental school routes for the local high schools. Local bus service is operated on weekdays from 5:00 a.m. to 12:45 a.m. Saturday service is operated from 6:00 a.m. to 11:30 p.m. and Sunday service operates from 6:30 a.m. to 8:45 p.m. Commuter services operate Monday through Friday from 3:50 a.m. to 7:54 p.m. AVTA also operates a midday service, known as the TRANSporter, that connects the Antelope Valley with the Santa Clarita Valley on week days. This service begins operating at 8:00 a.m. and continues until 5:50 in the evening. AVTA also provides urban and rural Dial-a-Ride service. Service within the urban zone and rural zone 1 is available to elderly persons and persons with disabilities. Service within rural zone 2 is open to the general public. Buses operate weekdays 6:00 a.m. to 7:30 p.m. and weekends 8:00 a.m. to 6:00 p.m.

On March 16, 2022, the Antelope Valley Transit Authority Board of Directors, along with the California Air Resources Board (CARB), hosted a celebration recognizing AVTA becoming the first all-electric transit agency in North America. Antelope Valley Transit Authority received their 20th electric MCI coach for their commuter routes. The addition of these buses to AVTA's fleet of BYD zero-emission buses, enables the agency to place into service a 100% zero-emission transit fleet.

AVTA's 100% electric zero-emission transit fleet consists of:
62 BYD zero-emission buses
8 battery electric support vehicles

8 battery electric support vehicles

24 MCI battery-electric commuter coaches
AVTA's Timeline to Zero Emissions:
In February of 2016, the AVTA Board of Directors voted to purchase up to 85 new all-electric zero emission buses from BYD, officially becoming the first transit agency in the nation to commit to a 100% electric fleet.
In 2017, AVTA installed the first 50 kw WAVE inductive charging system in Southern California and in 2018 began installing the first four 250 kW WAVE charging stations to charge its electric buses on these wireless charging pads strategically located at transit centers throughout their bus routes. There are 13 inductive pads across the service area. Three each at Sgt. Steve Owen Memorial Park, the Blvd. Transit Center, Palmdale Transportation Center, the South Valley Transit Center, and one at Antelope Valley College.
In May of 2019, AVTA celebrated the significant milestone of achieving the first one million miles driven by its all-electric zero emission fleet of buses.
In April 2020, as the country struggled with the beginning of a global pandemic, AVTA decommissioned the last diesel bus from service in their local fleet and became the first all-electric local bus fleet in the nation.
In September 2020, AVTA added eight GreenPower EV Star electric vans and launched a Microtransit pilot program in the rural Los Angeles County communities in the eastern part of their service area.
On August 24, 2021, AVTA christened the first of 24 battery-electric MCI commuter coaches, launching into service the first electric commuter coach in North America.
In January 2022, Antelope Valley Transit Authority celebrated the significant milestone of achieving seven million miles driven by its all-electric zero emission fleet. Those seven million electric miles represent:

1,750,000 gallons of diesel fuel avoided
$2,362,500 Net Savings
41.58 million pounds of CO2 reduced
View AVTA's Journey to Electrification through a digital commemorative flipbook or watch the video here.